Let us tell you about the pretty city of Flowers, Majunga, which smells like flowers, sun and sea. One of the most popular cities during the holiday season. Although very popular amongst locals and tourists, the international tourists turn mor often to the northern part of Madagascar. They don't know that Majung has mora that just the sun and the sea to offer! This city contains beautiful historic sites, like a heritage well known as 'the Dame de Fer in Paris' – 'Villa Eiffel', and has a peaceful coexistence between people of different religions.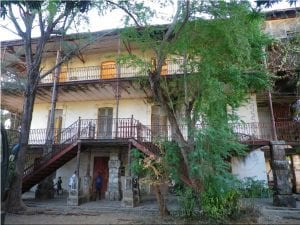 The building signed 'Eiffel'
In the town of Majunga, not far from the famous "edge", behind modern houses, a real treasure is hidden. A large abandoned building, covered with climbing plants that seem to want to protect it from any external attack, tells a great story. This colonial house, today inhabited by a few families, is fragile. Its architecture recalls these colonial constructions in the tropics, where every detail is refined. It has two floors, each with a small veranda, bordering all the accommodation. Two beautifully carved metal stairs lead to the upper floors. Nowadays covered in rust, these iron bars seem fragile. We almost do not want to use them, as the weight of the body could make them crack.
At first glance, it is not a villa, nor a pied à terre. In reality, it was the home of French soldiers during colonial times. And this building was built by the architectural firm of Gustave Eiffel, the same man who built the Eiffel Tower in Paris.
Unfortunately, hidden behind modern houses, and completely neglected, it is hard to notice. This true heritage that could be the pride of the city, and even of the country, is not highlighted. To find it, and even know its history, you need a tourist guide, and ask him for this little tour. Only the current tenants take care of the building to be able to keep living there, but the building needs and desevers more. This kind of heritage, elsewhere in countries where culture plays an important role in the development of the country, would have been rehabilitated, while respecting all the materials of the house, and keeping its original architecture, so that it can remain a historical heritage. Unfortunately this is not the case for this beautiful building. This building is not the only construction made by the offices of Gustave Eiffel in Madagascar. There is also the Kamoro bridge, which has also been left as is. There is also the Katsepy lighthouse as well as the Bazar Be. So many historical heritages that could enhance Majungese tourism, because too few know these stories.  So! Are you visiting Madgascar and are you interested in visiting Majunga and its well kept secrets? Contact us!